The 11th International Conference on Road and Airfield Pavement Technology (ICPT) was held from 10 to 12 July 2019 at the Seri Pacific Hotel Kuala Lumpur, Malaysia. This conference is a longstanding event that brings together road and airport pavement researchers, engineers, and governmental officials to promote pavement technological advancement worldwide. The organizers for the event are the Universiti Putra Malaysia (UPM) and the International ICPT Steering Committee.
Participation from diverse countries
There were about 200 participants from many different countries including Singapore, Malaysia, Japan, South Korea, China, Taiwan, India, Thailand, Indonesia, Sri Lanka, USA, Sweden, Germany, Italy and Australia. The opening address were delivered by Prof. Ratnasamy Muniandy (co-chairs of ICPT 2019), Prof.Fwa Tien Fang (Chairman of the International ICPT Steering Committee) and YBhg. Prof. Datin Paduka Dato' Dr. Aini Ideris (Vice Chancellor of UPM). The event was officiated by YBhg.Dato' Ir. Dr. Meor Abdul Aziz bin Hj. Osman, Director General of Public Works Department, Malaysia.
Keynote Lectures
There were 4 keynote lectures presented at the conference, namely,
"The Role of Road Network in Economic Development". By YBhg. Dato' Ir. Hj. Che Noor Azeman Yusoff, Director of Road and Bridge Engineering Specialist, Public Works Department, Malaysia
"Soil Mechanics, Water and Pavement". By Prof. Frank Bullen, University of Southern Queensland, Australia.
"Asset Management of Road and Airfield Pavements". By Prof. Kelvin C.P. Wang, Oklahoma State University, United States
"Towards Improving Service Life of Asphalt Pavements" By Prof. Manfred Partl, KTH Royal Institute of Technology, Stockholm, Sweden.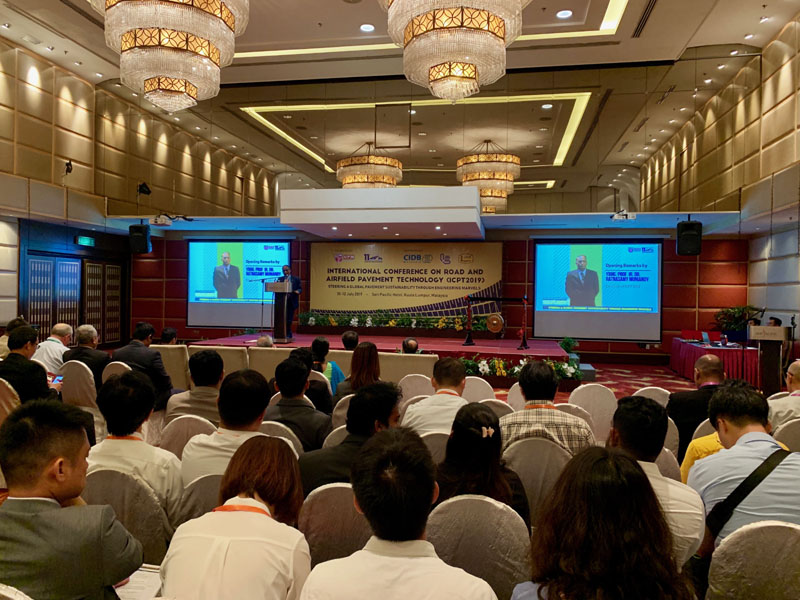 A total of 77 papers were presented at the conference. The topics include:
Pavement Design, Evaluation and Performance
Pavement Construction
Pavement Materials Characterization
Sustainability in Pavement Engineering
Pavement Preservation
Pavement Maintenance and Rehabilitation Techniques
Pavement Management Systems and Financing
Pavement and Transportation Safety
Law and Enforcement Related to Pavement Engineering
Pavement Drainage and Erosion Control
GIS Application for Pavement
Quarry Material Assessment for Pavement
Pavement Instrumentation
Other pavement related topics
Closing Ceremony – Announcing the launch of APES
At the closing ceremony, Prof. Fwa announced the launch of the new Asian Pavement Engineering Society (APES) and invited fellow pavement engineering professionals and researchers to join the society. The new council members consisted of members from various countries including Singapore, Malaysia, China, Sri Lanka, Indonesia and Thailand.